Exinnov, an innovative process
Exinnov offers a wide range of plant extracts, focused on locally grown plants such as vines and pines, for extracts rich in polyphenols, or plants from more distant origins such as our extracts of ginger, devil's claw or desmodium known for their health properties with irreproachable quality. The innovation provided by our company is based in part on the holding of international patents on the process of obtaining polyphenols from alcohol-free raw materials.
Based in the West of France, Exinnov has two complementary production plants allowing it to offer a very diverse range of products: The first, located in Melle, extracts the active compounds with subcritical water in order to obtain ingredients combining concentration and efficiency, mainly for the nutraceutical field. The second, located in Saint-Jean-d'Illac, extracts the active molecules using biosourced solvents to obtain purified molecules, mainly for the fields of cosmetics, drugstore and nutraceutical. A hydrogenerator completes the production tool for the manufacture of vegetable butters, hydrogenated oils and solid cosmetics.
Our expertise

Extraction
We use a unique extraction process that goes deep into the plants to recover the highly active substances.

Product development
In addition to our catalogue, we offer customised extracts to meet all your requests.

Service
Thanks to our scientific, regulatory and technical team, we support you throughout your project.

The Ecocert certification allows us to guarantee the quality of our organic raw materials farming.
The Ecocert certification allows us to guarantee that our manufacturing process is organic as well as our raw materials, which we carefully choose to encourage more responsible agriculture and better products. Our entire catalogue is manufactured in France, in Melle, to guarantee the quality and traceability of our extracts.
Preparation of ISO 22 000 standard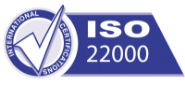 ISO 22 000 certification allows us to guarantee consumer safety.
For even more consumer safety, we are preparing for ISO 22 000 certification.